Upcoming Events
Public lectures, workshops, webinars and summit appearances with Darby Costello.
April 24, 2022
International Academy of Astrology
Recognizing Fear and Nourishing Courage in Our Day-to-Day Lives
Anxiety and fear have become more manifest since the pandemic has taken so much space in our collective lives. Every day, in every country, we are given 'facts' that are geared to keep us anxious and afraid. How can we best deal with this, and how can we, as astrologers, help others deal with it? We shall look at the chart to see where we might find our natural inclination to fear, and to courage, so that we may negotiate the former and nourish the latter as we go into the unknown future.
May 11, 2022
OUTER PLANETS AND GENERATION
Uranus, Neptune and Pluto are called Trans Saturnian Planets and these planets form distinctive configuration, aspects, cyclically. When we talk about generations, it corresponds to these aspects of trans Saturnian planets. This means that human beings and the planets in the universe resonate to each other.
Please note this webinar will be in Japanese
June 2, 2022
Academy of Astrology
Moon: Reflector, Mother, Soul life
In Western psychological astrology, the Moon, its placement and aspects, shows how we took in our mother's attention and care in infancy and early childhood. As we grow, it becomes our way of feeling and expressing emotions in our relationships with ourselves and other people. To understand ourselves and how people receive us emotionally, we must understand the Moon in our charts as it reflects who we are so deeply. Here we shall reflect on the Moon, what it says about your relation with your mother, yourself and others, and ultimately, your own Soul.
12:30 – 15:30 UK time
Please note that this webinar will be conducted with live Chinese interpretation.
Please write to Brian Fung at lon15@hotmail.com for further information or if you would like to join. 
June 19, 2022
Mercury Internet School of Psychological Astrology (MISPA)
The Sun and the Moon in the astrological chart
The Sun and the Moon are the two great luminaries in our sky.  The Sun keeps its shape and  brightness and lights up our days. The Moon waxes and wanes through the night sky in relation to the Sun.  They are intimately related to each other in the heavens above us, and also in the astrological chart.  Here we shall look at the relationship between them so to remember how fundamental they are to our natures and how we might honour them as we develop through our lives.
August 19 – 26, 2022
Darby will be teaching at The Summer School of The Faculty of Astrological Studies at Oxford College.
---
Past Events
April 2, 2022
Astrology University
Sacrifice: When, how and why?
This year has Jupiter with Neptune in Pisces half of the time. Sacrifice has been, for most cultures, an important part of personal and collective life. Its aim has always been to achieve safely and security for the group though what is sacrificed and to whom is different in each culture. It seems to be fundamental to our collective nature, and yet does it have a proper voice in our secular world? What do you believe is worth sacrificing for, and what part of your life is given to sacrifice? We shall explore this astrologically.
Registration open in March 2022
February 13, 2022
3:30-6pm GMT
MISPA: Mercury Internet School of Psychological Astrology
Individuation: A time to decide.
Carl Jung spoke of the process of Individuation, and with Saturn in Aquarius returning to the square with Uranus in Taurus soon, it may be a good time to think about this. In The Symbolic Life (Vol 18) he said: "Individuation remains a pose so long as no positive values are created. Whoever is not creative enough must re-establish collective conformity with a group of his own choice, otherwise he remains an empty waster and windbag." How can we navigate this aspect so that we dare to express and live by our individual positive values or recognize and accept our conformity to a group mind?
Book here: https://www.mercuryinternetschool.com/
December 4, 2021
London School of Astrology
Planetary Combinations – A Seminar with Darby Costello and Frank Clifford
Saturday 4 December 2021, 11am to 4:30pm in London Euston
Join Darby and Frank as they work with various planetary combinations such as Sun-Saturn and Moon-Uranus (£600: included in Year 2 and 3s fees.)
Book here: https://londonschoolofastrology.co.uk/event/seminar-in-london-planetary-combinations/
August 20 – 22, 2021
Mars and Venus: The Warrior and the Peacemaker
Darby Costello Rector's Drawing Room online
August 20th – 22nd 2021
14.30 – 15.45
Mars and Venus are in contrast to each other in one's nature, and both are necessary to living a fulfilled life. We need our warrior to defend and protect us and fire us into action with courage and daring. We need our peacemaker to find us places of grace and kindness with which to heal the harsher experiences of life. We shall look at Mars and Venus in various positions and aspects and explore what it means to work with these powerful dimensions.
https://www.astrology.org.uk/wordpress/wp-content/uploads/SS2021-Brochure.pdf
https://www.astrology.org.uk/online-seminars/
Booking information here: https://www.astrology.org.uk/online-booking-centre/
October 10, 2021
Generations and Cycles of History
October 10th, 2021
15:30-18:00 BST
Generations and Cycles of History: What is your Generation About? The outer planets keep their pattern for several years at a time and many astrologers have come to see these patterns as describing generations. These planetary patterns give clues as to what a
generation might be developing, encountering, and working to bring into the world. We shall look at various generational patterns and particular characters who seem to express those patterns most clearly and we shall ask ourselves how attentive we are to the
planetary designs.
Convert webinar time to your own time zone on the site.
https://www.mercuryinternet school.com/10Oct2021.html
October 29 – 31, 2021
The Progressed Moon and its journey through the houses
The Astrological Association Annual Conference
October 29 – 31, 2021
Wyboston, England
The house inhabited by the Moon profoundly colours the time that it is there. As it goes round its second and third cycle, we can develop the capacity to navigate the energies of our life more consciously, more attentively. During this workshop we shall explore its journey through the houses, to become aware of the nourishment it offers and the depth of its experience as it goes round – and round.
July 10, 2021
Hosted by The Academy of Astrology
Reading the Past to Navigate the Present: Historical Cycles as Teachers – Register now
May 2, 2021
Mercury and the Sun
Hosted by Mercury Internet School of Psychological Astrology – Register here
May 11, 2021
Mars: Drawing Out Mars from Within
Translated from English to Japanese – Register here
February 7, 2021
Mercury Internet School of Psychological Astrology (MISPA)
2021: The Good of The Community vs. My Personal Good
Saturn in Aquarius describes a strong moral sense of what is 'right' and 'good' for our community, whether others agree with us or not. Uranus in Taurus describes where we must awaken to our own values and our own 'good', whether others agree with us or not. These two planets are square each other throughout 2021 and all of us will have to confront these conflicting demands in ourselves and in others. – Register now
February 11, 2021
Aquarius Severn Astrology Society

Mercury – Nobody's Fool
Mercury is perhaps the most difficult to define of all the personal planets. He has so many paradoxical attributes – Trickster, Guardian, Friend, Thief. He is also Psychopomp, able to travel between the underworld and the upper world. And, as Lily said, he is 'good with the good, bad with the bad.' So how do we read Mercury in our charts? How do we understand his function, natally and by transit? We shall look at this planet and try catch how we might register his nature and work with his gifts, in order to honour this elusive and rich dimension in our lives.
December 2 – 27, 2020
The Social Planets Course – Learn more and register
December 19, 2020
A day seminar with Frank Clifford where we shall talk about the coming Jupiter with Saturn in Aquarius.
August 21 – 28, 2020
Darby will be teaching at The Summer School of The Faculty of Astrological Studies at Oxford College (online only)
Learn more and register here
September 23 – October 19, 2020
The Four Angles – at Astrology University
In this course we will explore the four angles – powerful points in our chart that constellate energy. Sometimes called "the cross of matter," these angles can be understood as points through which core energetics in our life manifest – from our home environment, to how we meet the world and step into life, to our life's mission or career, to how we meet "the other".
We'll learn the meanings of the IC, the Ascendant, the MC and the Descendant. We'll discover how to interpret those points through their signs and also the planets ruling those signs.
September 26 – 27, 2020
London School of Astrology Student Weekend – Online
'Understanding the Past, Embracing the Future'
A wise philosopher once said that those who cannot remember the past are condemned to repeat it. As astrologers we can contemplate other times in light of outer planetary patterns. This allows us to guide ourselves and others into the future with courage and grace, if we are willing.
October 24, 2020
Faculty of Astrological Studies
Module 7C
Synastry: Becoming Familiar with the Composite Chart
See Courses at: https://www.astrology.org.uk/london-classes/
November 7, 2020
Mercury Internet School of Psychological Astrology (MISPA)
The Ascendant and its ruler
We all take for granted that the Ascendant says something quite profound about ourselves, but what is it? It describes our 'persona' or that which we present to others, particularly when we first meet them. It is also a liminal space – a border – between the outer and the inner world. In our relationships with others, it is very important to understand what our Ascendant is presenting. To do that we need to understand the power behind it, the Ascendant ruler. Here we shall explore this combination.
See https://www.mercuryinternetschool.com/ for details
May 13, 2020
The Joy of Love: Venus and her gifts
CANDYASTROLOGY ONLINE SEMINAR for JAPANESE SPEAKING PEOPLE
(Japanese translation)
11:45-14:15 BST
19:45-22:15 JST
Venus has been the goddess and the planet of love for thousands of years in so many cultures. She has been imagined and related to in different ways in different times and places in history. Venus has always been connected to the ecstasies of Beauty, Joy and Love. It seems, however, that her gifts carry a high price – and it is hard to learn to live with her seasons; the flowering and dying that is part of love. Here we will begin to explore Venus in the natal chart to see what hooks us psychologically into 'falling in love', and how we may use astrology to develop the capacity practice the dance of Love – the work of Love.
Contact infoyukiko@candyastrology.co.uk Yukiko Harwood, Tuition fee 70GBP
July 4 – 5, 2020
Navigating the aspect of Jupiter, Saturn and Pluto in Capricorn.
We are now accustomed to Pluto being in Capricorn with Neptune in Pisces. They will be together there until 2024, as they have been six times in the last 3000 years. Saturn is now part of the team as it joined Pluto at the end of 2015 and now Jupiter has entered Capricorn too and the three of them will be together until near the end of 2020. We shall look at what this powerful and demanding combination might mean for us, collectively and personally. We shall explore how each of us might engage with this unique energy with attention and care, for ourselves, our loved ones, our communities and our world.
April 19, 2020
A Celebration of Myth & Astrology for MISPA's 5th Birthday MISPA will be celebrating its 5th birthday with a day of online talks from our astrology tutors exploring some of their favourite myths and stories and how they relate to astrology.
Join us live on Sunday, 19th of April as we delve into the mythological world.
Starting at 13:00 BST with Darby presenting on – Hermes: Trickster / Guardian
April 25 – 26, 2020
Astrology + Relationships – Exploring our Connections
Join Darby and some of the best Western astrologers on the planet for a series of inspiring talks to help deepen your experience in relationships, explore and understand your interpersonal connections, heal disconnection and find ways of showing up in more authentic ways yourself.
The summit is FREE to WATCH LIVE. And each talk is free to watch for 24 hours after it is broadcast. All you need to do is sign up and we'll email you all the details!
Details for Darby's talk:
Venus and Mars: Love, Beauty, Courage and Excellence
We all know that Venus and Mars are central to our relationship life. But how do we work to cultivate the very best of these natural inclinations? How often do we rather blame them in our own and other people's chart, for failures in our intimate lives? In this hour we shall look at these two great deities to see how we may be more conscious in attending to their gifts in ourselves and in others.
March 28, 2020 – Cancelled
Sacred Earth: As Above, So Below – Faculty Open Day 2020 with The Faculty of Astrological Studies
Darby will be presenting in the afternoon at this event.
Learn more and register here
February 22, 2020
The Times They are A'Changing
Pluto went into Capricorn in 2008 as many of our taken-for-granted collective structures began to collapse. Neptune went into Pisces in 2011 and who knows what dreams began to fade away as new dreams were seeded in the dark.
These two planets have been sextile in these signs six times in the last 3000 years. In this webinar we shall look at each of the earlier historical periods to see what we might find in common with our own times and to explore how we might personally and collectively work with these energies for the future of our species and our planet.
9:00 AM Pacific Time (convert to your time zone)
$25 (through February 20; $30 thereafter)
At Astrology University
February 9, 2020
Water: Giver of Life
Water is perhaps the most mysterious of all the elements. It is in everything, and mostly invisible. And yet, it is so visible: in ponds, streams, rivers, lakes, oceans and seas; below us in the earth and above falling from the sky. It always heads for the sea when left on its own – always seeking unity with its larger self. In our charts it shows us where we are seeking unity, with ourselves, with others, with life itself. Where there is water, we must attend our emotions so they stay healthy and life-giving. Ignored, they become harmful to ourselves and others – over-purified and they become sterile. In this webinar we shall explore astrological Water through signs, planets and houses.
Webinar at Mercury Internet School of Psychological Astrology
15.30-18.00 GMT
February 15, 2020
Progressed Moon
Course on progressions at the Faculty of Astrological Studies
October 26 – 27, 2019
Virtual Summit: Breakthrough and Transformation
Darby presents a bonus lecture for the Astrology University summit: "Windows Opening in the Density of Time/Space."
There are moments when something seems to penetrate our lives here in the density of time and space. We are moving along and suddenly the light changes and we enter a new dimension. Life is forever after different. Here we shall look at a few people for whom these moments opened up a radically new perspective and we shall look at the astrology of those moments in their lives. Some seem almost obvious, but some are very surprising.
Available exclusively as an addon to the All Access Pass for the summit.
November 2 – 3, 2019
Synastry Weekend
AUTUMN TERM 2019
Module 7C – The Synastry Weekend
10am to 5pm GMT
The Faculty of Astrological Studies
November 20 – December 2, 2019
Online Course: Jupiter and Saturn – The Social Planets
Darby joins Mark Jones and Tony Howard for a 4-week online course on Jupiter and Saturn. Darby presents a lesson on Jupiter. Learn the core meanings of Jupiter in preparation for chart analysis.
Online through Astrology University
November 30, 2019
After the Second Saturn Return
The 1st Saturn return is recognized as a most powerful time in each of our lives and much is written about it. But what about the 2nd Saturn return? And the 3rd? These are equally powerful transitions. The 2nd – around 60 years old – marks the foothills of old age. From here we must start paying attention to our bodies and souls in new ways, and it is important that we use the time to make clear decisions to live consciously in these aging animal bodies. We shall explore this aspect and other significant transits all the way through and beyond the 3rd Saturn return in the late 80s, so that we may help ourselves and others navigate these profound years with attention and grace.
0:30 – 16:15
Amsterdamseweg 156
1182 HK Amstelveen
Achernar Contact Groep (or ACG.)
December 8, 2019
Webinar: Earth – Our Home
Nearly 50 years ago we saw our home planet from space for the first time and this has powerfully influenced our collective perceptions about the Earth. In the last few years we have become aware that this Earth is more fragile and vulnerable that we ever imagined it to be. And yet our astrological element Earth has always been associated with stability and practicality. We want to be 'grounded;' and we like people 'down to earth.' Uranus has now gone into Taurus, perhaps awakening us to new perceptions of this element. In this webinar we shall explore the astrological Earth through signs, planets and houses.
15.30-18.00 GMT
Online through MISPA
December 14, 2019
Planets in Sign and in Combination
A seminar with Darby Costello and Frank Clifford. In the fourth and final Year 1 Saturday seminar of Term 1, Darby and Frank will explore planet-in-sign examples from the class and many planetary combinations (e.g. Sun–Uranus, Mercury–Neptune). Bring your charts. (Incl. in Year 1's Term 1 fees.)
10.30am to 4.45pm GMT
London School of Astrology
January 16 – 20, 2020
FAA Conference Australia
Darby presents at the bi-annual FAA conference. Click through the image below for conference details and registration.
June 2, 2019
Webinar: Air – The Breath of Life
Our life begins with our first inbreath of air, and it ends with our last outbreath. It is completely invisible and yet we cannot do without it for more than a few minutes, and live. We constantly register sights, sounds and smells as they travel through the air giving us information. When we put distance between ourselves and another being or another thing, we see them differently. Air represents the rational mind – and describes how we articulate that which we perceive. It describes the kind of space we need, with each other and the world. In this webinar we shall explore the realm of air, through signs, planets and houses.
15.30-18.00 GMT
Online through MISPA
May 18 – 19, 2019
Awakening to The Dance of Love – the Work of Love
We inherit certain characteristics that determine our capacity for relationship –and through using our natal charts for self-reflection and inner work, we can increase our ability to get the best from our interactions with other people. With Uranus entering Venus ruled Taurus it may be time for our love natures to be awakened to new expression. During this weekend we shall look at the factors in our charts that describe our gifts and weaknesses in love relationships. We shall explore synastry and composites as guides to navigating the important relationships in our lives, whether that be friend, lover, partner, child, parent or work companions. Bring your charts and the charts of people you might wish to work with during this weekend.
Barcelona, Spain
Aula Astrològica de Catalunya – escola d'astrologia a Barcelona
Place: Centre de Cultura Contemporania de Barcelona
Carrer Montalegre 5, 08001
April 27, 2019
Webinar: Saturn and Jupiter – Guardians at the Gate
Saturn and Jupiter are in their own signs during 2019. This gives us a rare opportunity to work consciously with these two great Social Guardians, getting to know more fully what they describe in our inner and outer worlds. Jupiter in Sagittarius offers adventure, not always comfortable, but always bringing opportunity for a wider perspective on life. Saturn in Capricorn demands our attention, showing us where work and discipline offer a deepening of our relationship with the world in which we live. Here we shall explore ways of attending these powerful guides so to move more consciously between the personal and collectives dimensions in these intense times.
9:00 AM Pacific Time
Online through Astrology University
February 24, 2019
Webinar: Fire – The Heart of Knowing
Fire is a dangerous and unpredictable element when uncontrolled and yet it is at the heart of our lives as human beings. Our ability to control fire has given us a freedom that has allowed us to settle in all parts of the world, and to explore the planet, and beyond. At another level, fire is the element that represents our ability to know things directly – it shows us our intuitive function. It represents the Imaginal realm and is at the heart of our creative lives. It is how we 'know' things, directly. In this webinar we shall explore the realm of fire, through its signs, planets and houses.
15.30-18.00 GMT
Online through MISPA
December 15, 2018
Navigating the Outer Planets: Uranus, Neptune and Pluto
A seminar with Darby Costello and Frank Clifford.
What do the outer planets mean for us individually and collectively? How do they manifest in our lives and in the world headlines? Join Darby and Frank to explore the transpersonal planets in this stimulating and interactive workshop. Bring your charts.
London, UK
November 11, 2018
Webinar: Rulership
Early on in our astrological education we all learn about rulership and exaltation, detriment and fall. We learn that having planets in the first two categories is really good, and having planets in the second two is not good. And yet, how is it that some of the finest warriors in the world have a 'weak' Mars, such as Nelson Mandela and Winston Churchill each with their Mars in Libra? There is a secret to rulership and exaltation, detriment and fall that we learn over a lifetime of doing charts.
October 27 – 28, 2018
Summit presentation: Destiny, Destinations and Choice : Navigating by the Stars
Since the beginning of our time as human beings, we have been navigating by the stars; across landscapes – notably deserts – and water bodies – especially oceans and seas. At some point, we began to look to the stars to help our rulers navigate possible events that might or might not be upon us. Today we look to the stars to help us with our choices in navigating the energies manifested in our individual lives – both inner and outer experiences and events.
So, what has this to do with Destiny or Life Purpose? As defined in the Shorter Oxford English Dictionary, Destiny is, "The predetermined course of events…the fate of a particular person, country, etc; [and] "invincible necessity."
During this hour we shall explore the dance between Destiny, Destinations and that which we call Free Will.
Sunday October 28
9am Pacific Time
Online through Astrology University
October 20 – 21, 2018
Darby Talks About Her Summit Presentation
Synastry Weekend
Weekend synastry intensive.
Location: Faculty of Astrological Studies
June 22 – 24, 2018
50th anniversary Astrological Association conference Darby Costello Mars Our Warrior, Mars Our Destroyer Darby Costello Awakening to New Values, New Worlds
May 24 – 29, 2018
United Astrology Conference (UAC)
Darby will present two lectures at the next United Astrology Conference in 2018. UAC is a global gathering of attendees representing several of the main astrological organizations, so you won't want to miss it!
UAC 2018
Chicago, IL
June 10, 2018
Uranus in Taurus: Awakening Venus
When Uranus went into Aries in 2010-11, we certainly experienced an awakening of Mars energy– individually and collectively. Those who could express it became extremely active, in all sorts of positive – and negative – ways . Those who could not express their Mars energy became depressed or helplessly angry against "them." Now, with Uranus newly in Taurus we can expect to see Venus awakening in all the wonderful and uncomfortable ways we can imagine. Here we shall explore how we might experiment personally in navigating this new Venusian energy.
5 May, 2018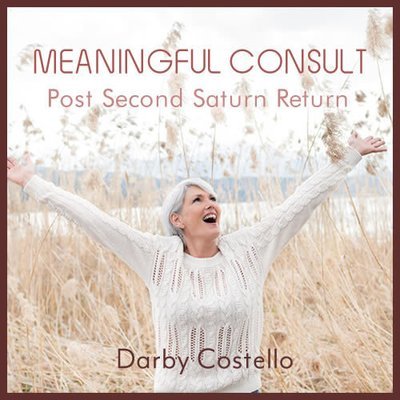 Live webinar: Providing Meaningful Consult After the Second Saturn Return
Darby will present a special presentation for Astrology University about how to best counsel our clients after the second Saturn Return.
Online at www.astrologyuniversity.com
April 7 – 8, 2018
Astrology Conference in Holland
http://www.astrologencongres.nl/programma/
March 17, 2018
Synastry, the Astrology of Relationship*
Faculty of Astrological Studies
"For two personalities to meet is like mixing two chemical substances: If there is any combination at all, both are transformed." Carl Jung
In this tumultuous time of disruption and change, nourishing relationship are perhaps even more important than usual. Looking at the synastry between yourself and those close to you gives vital information for the navigation of these relationships. Seeing the graceful and the awkward interactions between two charts helps us move round each other when we need to, and join each other where we can, in creative and fruitful ways. We shall look at the art of synastry so to enhance our understanding of our human interactions. For details see The Online Seminar page
January 27, 2018
Live Webinar: The 12th House
Darby completes her exploration of the water houses with this webinar on the twelfth house.
The twelfth house used to be considered a wholly unfortunate realm. It was called the house of the 'Bad Daimon.' Planets there brought us to madhouses, hospitals, prisons and monasteries. While those realms linger in twelfth house people, we have discovered that through our willingness to serve life itself, we access realms both mysterious and wonderful.
This house is associated with Pisces and Jupiter and Neptune, and it is where we find our connection to ancestry beyond memory – our 'unremembered dead' and Jung's Collective Unconscious. During this webinar we shall attempt to shed light on this dimension where we find ourselves beyond space and time.
Astrology University
9:00 AM Pacific Time (convert to your time zone)
December 10, 2017
Saturn in Capricorn: A first look at the coming transit
On the 21st of December, Saturn will go into Capricorn. It will be there until the 18th of December 2020, with the exception of a few months at either end. In early 2020 it will conjoin Pluto in Capricorn. As always with strong Saturn placements we can say it will be a testing time, personally and collectively. But what sort of tests are we looking at? During this webinar we shall begin to explore ways of navigating this transit to understand how each of are part of reshaping the structures and systems of our emerging new world. We shall also look back at the 1989 transit, when Uranus and Neptune were in Capricorn, and at the generations who are experiencing their Saturn returns during this time.
MISPA webinar (online) – Mercury Internet School of Psychological Astrology
Time: 15:30 – 18:00 GMT
December 17, 2017
Live Webinar Panel Discussion: Saturn in Capricorn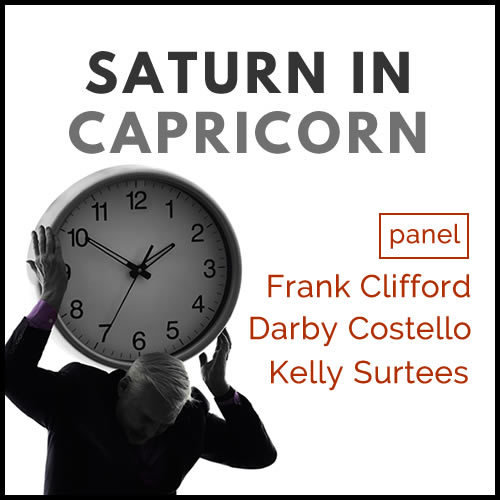 Darby will join Frank Clifford and Kelly Surtees for a live online panel discussion of the transit of Saturn in Capricorn. Saturn enters Capricorn on December 21, 2017 and remains there through March 23, 2020. In the years to come Saturn will be joined by Jupiter and Pluto, emphasizing the significations of Capricorn.
After initial sessions with each of the three speakers, we will open into a discussion between the astrologers and attendees. Bring your questions, reservations and hopes about this transit, and we'll work together to give you ways of constructively and proactively engaging this energy, as well as think about themes that might emerge in the collective.
Astrology University
November 3 – 5, 2017
Weekend Workshop in Hong Kong
Join Darby in Hong Kong for a Friday evening lecture on the water houses followed by a weekend workshop on love and relationship.
November 10 – 12, 2017
Weekend Workshop in Tokyo
Join Darby in Tokyo for a Friday evening lecture followed by a weekend workshop. On Friday she'll speak on transiting Jupiter and Saturn. And the weekend workshop will focus on relationship. On Saturday, November 11, we will focus on the relationship between Sun and Mars on the chart, Moon, Venus and explore ways to connect masculine and feminine energy. On Sunday we will study relationships and partner energy using synastry and the composite chart. Please bring your charts.
The workshop host has translated two of my articles into Japanese, which you can read here.
October 15 – 16, 2016
The Synastry Weekend
During this weekend on Synastry we shall look at various methods of comparing charts. Our aim will be to use these techniques to help ourselves and others to navigate the often complex dynamics that are set in motion when we meet another person and then find ourselves in a relationship of one kind or another. We shall look at various examples of relationships, both romantic and non-romantic, and we shall explore what the inner and outer planets have to say about our lives with other people.
The Faculty of Astrological Studies
Time: 10a.m. – 5p.m. GMT each day
October 29, 2016
The Astrological Moon
This day will focus on the natal Moon and its progressions. First we shall consider the Moon as it describes the particular bond with our mothers in invancy and childhood. Then we shall explore the progressed Moon's role as it circles our chart, reflecting our emotional and spiritual development throughout our lives.
The Scottish Astrological Association
Time: 10a.m. – 5p.m. GMT
November 12, 2016
The Progressed Moon: Finding Our Way Home
The progressed Moon reveals access to one of the most powerful dimensions of our human existence, and yet it has often been considered as simply one of several factors in predicting and timing events. For those who live interior as well as exterior lives, the progressed Moon is a guide illuminating places of self-reflection and inner nourishment. To find these places we often have to go through emotions that take us back to our early home lives. During this day, the nature of the progressed Moon, its cycle, placement, and relationship to transiting Saturn, will be discussed.
Oxford Astrology Group
Time: 10a.m. – 5p.m. GMT
November 27, 2016
Astrology and Art: The Artist and the Birthchart
When you think of a great artist do you think of what might indicate artistry in their birthchart? Do you imagine what might be common to their charts? During this webinar we shall look at the charts and the work of artists from different times in the European tradition to see if it's possible to find signatures of the artist's vocation. And we shall also consider what might indicate our own capacities in practicing the Art of Astrology.
MISPA webinar (online) – Mercury Internet School of Psychological Astrology
Time: 15:30 – 18:00 GMT
December 17, 2016
Navigating Uranus, Neptune and Pluto
A seminar with Darby Costello & Frank Clifford
What do the outer planets mean for us individually and collectively? How do they manifest in our lives and in the world headlines? Darby and Frank explore the transpersonal planets in this stimulating and interactive workshop. Bring your charts.
Time: 10:30am to 4:45pm GMT
Location: Friends Meeting House, 173 Euston Square, London NW1 2BJ
£50 (£45 for current LSA students; included in Year 1's term fees).
February 21, 2017
The 4th House: Hidden Stories
The fourth house has a mystery about it that is not often considered. It is deeply associated with the Moon, and with the sign Cancer, and it contains what we might call "the roots of our being." It is often associated with the beginning and end of life, and there is controversy around whether it describes our mother or our father in modern astrology. During this webinar we shall attempt to shed light into this house of hidden stories; this imum caeli, this mysterious "bottom of the sky."
Astrology University
Live Webinar – Bring your 4th House questions
Time: 9a.m. Pacific time (5p.m. GMT)
February 18, 2017
The Calling, Training and Practice of Sangomas in Relation to an Astrologer's Vocation
In this talk Darby will present some of her experiences and research in her seven year research project, and illustrate and discuss the calling, training and practice of these healer/diviners in relation to her astrological vocation today.
Canterbury Christ Church University
Canterbury, Kent
Time: 6:15 – 7:45p.m. GMT
June 3 – 4, 2017
Venus and Mars: Ancient Archetypes Meet in the Virtual World
co-taught with Alexander von Schlieffen
As time goes by, the mythical figures that represent the astrological archetypes change according to the zeitgeist, but every archetype has something pure at its roots. In this workshop, Darby will take you on an historical journey to discover ancient versions of Venus and Mars and suggest ways in which we might refresh our relationship with their energies. Alexander will reveal some of the manifestations and aberrations that present themselves today when we are awakened to these archetypes in the virtual world.
LSA Student Conference, London
Time: 14:15 – 16:15p.m. GMT
July 1 – 2, 2017
Weekend Workshop in Hamburg, Germany
July 15, 2017
Live Webinar: The Eighth House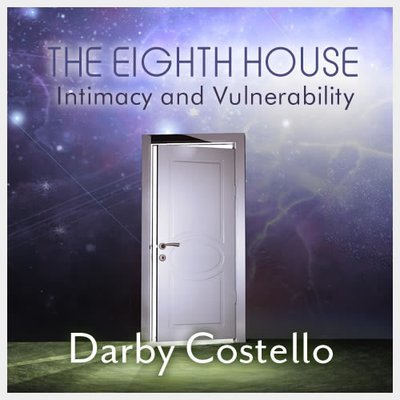 The eighth house is called the house of death. But it is the house of death in life, rather than the end of life. When we have gone through an eighth house experience we often feel as though we have been initiated into a new life. We are taken to places we could not have imagined.
Both Mars and Pluto are associated with this Scorpionic house. And although we may fear entering the eighth house dimension, we can also have no experiences of intimacy with others without having died to certain aspects of ourselves first. During this webinar we shall attempt to shed light into this house of deep vulnerability.
Astrology University
9:00 AM Pacific Time (convert to your time zone)
August 18 – 25, 2017
Global Vision: Living in Interesting Times
co-taught with Cat Cox, Bernard Eccles, Rob Hand, Michael Lutin and Melanie Reinhart
This track is about using astrology to understand the current times – and to make the most of our unfolding future. This will include sessions on the three outer planet cycles of Uranus-Neptune, Uranus-Pluto and Neptune-Pluto, the meaning of eclipses, the Saturn-Chiron square, Uranus in Taurus, money and prosperity, identifying our strengths and finding our vocation, the current state of the world (the reverberations of Brexit, the US election), the effects of Pluto in the collective psyche, and tools for the individual in navigating the current times. We will also look at what happens when a planet is first discovered and how it emerges into collective consciousness.
Faculty of Astrological Studies
Oxford, UK
September 21, 2017
Mars: How is Our Warrior Doing After Years of Uranus in Aries?
It seems as though our collective Mars has been awakened during the last few years with Uranus in Aries. Uranus speaks of disruption but also of liberation. Mars not only describes our raw survival instinct, it also describes our desire for excellence. Has our warrior, Mars, been operating with attention and rigor, or do we fly into rage or sink into depression when we don't get what we want? Are we more attentive to our survival instinct, our aggression, our will to excellence? With Uranus in its last degrees of Aries, we shall look at Mars, to see if it is fit and strong, and with a view to strengthening our ability to defend and protect ourselves and our cherished world.
Faculty of Astrological Studies Jupiter Group
London, UK